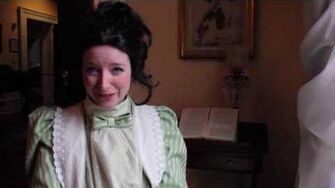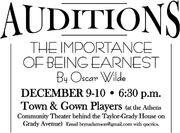 The Importance of Being Earnest is a witty and buoyant comedy of manners, brilliantly plotted, and full of literature's most famous epigrams.  It is considered Oscar Wilde's most perfect work.
This was performed at Town & Gown in February 2014. 
Cast & Crew
Edit
CREW
Director:  Bryn Adamson
Assistant Directors:  Cameron Logan, Ashley Laramore
Stage Manager:   Heather Sitler
Assistant Stage Manager: Marie Boyle
Set Designers:  Nathan Altman, Allen Rowell, Bryn Adamson
Lighting Designer:  Chris Fleming
Costume Designer:  Jennie Alvarnez
Costume Assistants:  Asia Meana, Lauren Woods, Karen Sanders
Publicity Coordinator:  Leara Rhodes
Poster Designer:  Steven Carroll
Sound Designer:  Todd Curless
Publicity Photos and Video:  Allen Rowell
Light & Sound Operations:  Nelson Reynolds
Reception:  Wild Food Catering
Lobby Decoration:  Cameron Logan
Producer:  Allen Rowell, Ashley Laramore
Set Foreman:  Allen Rowell
CAST
Algernon - Nathan Altman
Jack Worthing - Patrick Najjar
Lane - Daniel Johnson
Lady Bracknell - Elinor Hasty
Gwendolen - Katie Andrew
Cecily - Emma Atchley
Miss Prism - Virginia Simmons
Chasuble - Adam Shirley
Merriman - Isaac Callahan
Bryn Adamson loves to kiss on everyone.